Secure confidential bags are ideal and useful for small office spaces.
In these times of heightened security awareness, it's more important than ever to take precautions to protect your confidential data. That's why Shredding Services Brisbane is proud to offer our clients Secure Confidential Bags. These bags are designed with extra layers of protection to keep your information safe and secure. With our Secure Confidential Bags, you can rest assured that your data is safe and secure. Contact us today to learn more about this valuable service!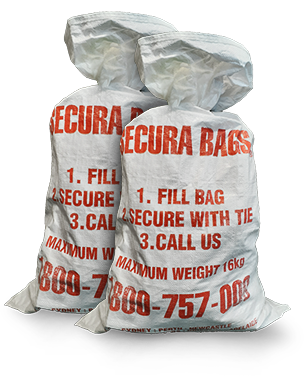 Secure Confidential bags is a practical Document Shredding Service
Secure Destruction Guaranteed
$92 incl GST - No limited time
Secure Confidential Bags & Shredding services
Businesses and individuals produce paper waste as a result of their operations. While not all papers contain sensitive information some of them have confidential data. Therefore, it can compromise the security of businesses and individuals.
Above all, Shredding services protect your confidential information from falling in the wrong hands.
Prevent data breaches
Prevent Financial losses
Protect your business from expensive fines. 
Secure confidential bags are ideal and useful for small office spaces. Secure Confidential Bags are sold in quantities min of 2 bags.
Our friendly customer service are available to assist you with customizing a solution for you.
Secure Confidential Bags - Easy - Convenient & Affordable
How our secure confidential bags & document destruction service works
Order online or call us 1800 958 322, once you have placed your order we will contact you to inform you about the date your bags will arrive to you. Usually the delivery takes  2 to 3 business days. 
You will receive your bags through Australian Post, after that you do not need to rush, there is no limit of time.
Once the two or more bags are full, our drivers collect them. For you convenience, all our vehicles have GPS tracking. Don't hesitate to call us to learn more.
One of our police checked drivers will collect the bags, your documents will be securely destroy. 
Certificate of Destruction
When the destruction process is done you will receive a certificate of secure destruction.
Easy to order and bags delivered promptly. Getting bags picked up for disposal just as quick. A great service i will use again and highly recommend
Brilliant customer service, I don't have the room for bins and not enough paper for bins so the Secura Bags were just what I was looking for. Could not be happier!
A good service. Sometimes can be a delay with collection, but this could be more due to my location that the business.
Secure Confidential Bags - Easy - Convenient & Affordable